VALCOVNA TRUB, CHOMUTOV
WALZWERK, ROLLING MILL
TSCHECHIEN, CZECH REPUBLIC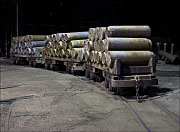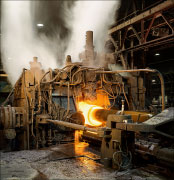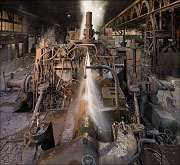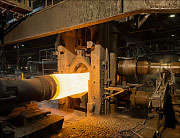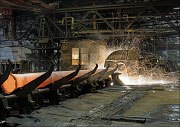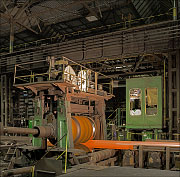 Urheberrechte, Copyright: ©Uwe Niggemeier
info
The tube mill in Chomutov (former Komotau) is one of the oldest production sites for seamsless steel tubes worldwide.
It was founded by the inventors of the process, the Mannesmann brothers, some local investors and Friedrich Siemens in 1887 on ground of the bancrupt "Erzgebirgische Eisen- und Stahlgesellschaft" steel company.
The Pilger rolling process, that stretches the thick walled hollow coming from the piercing mill (their first invention) into a tube was developed here in Komotau in 1890.
Until the end of the second world war the Chomutov plant became the center of the Mannesmann group's vast combine of companies in Czechoslovakia.
After the war the mill was nationalized under the name "Válcovny trub, národní podnik" and combined with the nearby Poldihütte steel mill.
After the re-privatization the company became part of the Z-Group Steel holding in 1997.