SLEVARNA CHOMUTOV A.S., CHOMUTOV
GIESSEREI, FOUNDRY
TSCHECHISCHE REPUBLIK, CZECH REPUBLIC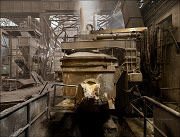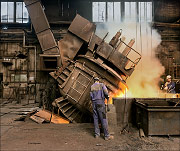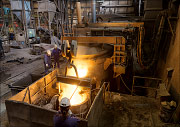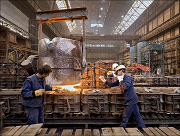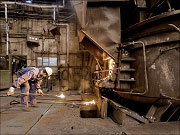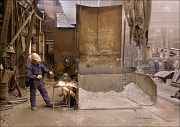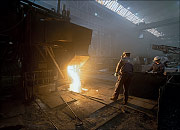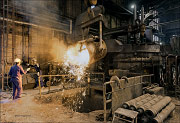 Urheberrechte, Copyright: İUwe Niggemeier
info
The Slevarna Chomutov foundry is the last relic of the Chomutov (Komotau) branch of the Poldihütte steel works from Kladno,CZ.
That mill was founded in 1889 by the German/Austrian entrepreneur Karl Wittgenstein.
In 1916 the mill in Chomutov was added and went into production in 1920.
Main products were speciality steel castings, wire and springs.
After the German annexation of the Czech Republic in 1938-39 the Chomutov plant became part of the Reichswerke Hermann Göring producing armor plate for the German Wehrmacht.
In 1939 a new 5 ton electric arc furnace, manufactured by FIAT in Italy, was installed and is still in use today.
After the second world war the mill was nationalized and combined with the nearby Mannesmann tube rolling mill.
After the privatisation in 1999 both mills were seperated again.
Slevarna Chomutov a.s. today is a steel foundry that runs two electric arc furnaces and produces abrasive wear resistant steel castings up to 4,5 tons a piece.